Lady Sitting
Oil on board (framed)
1978
27.5x18"
$3000.00
BUY
Exhibiting in the gallery April 1-28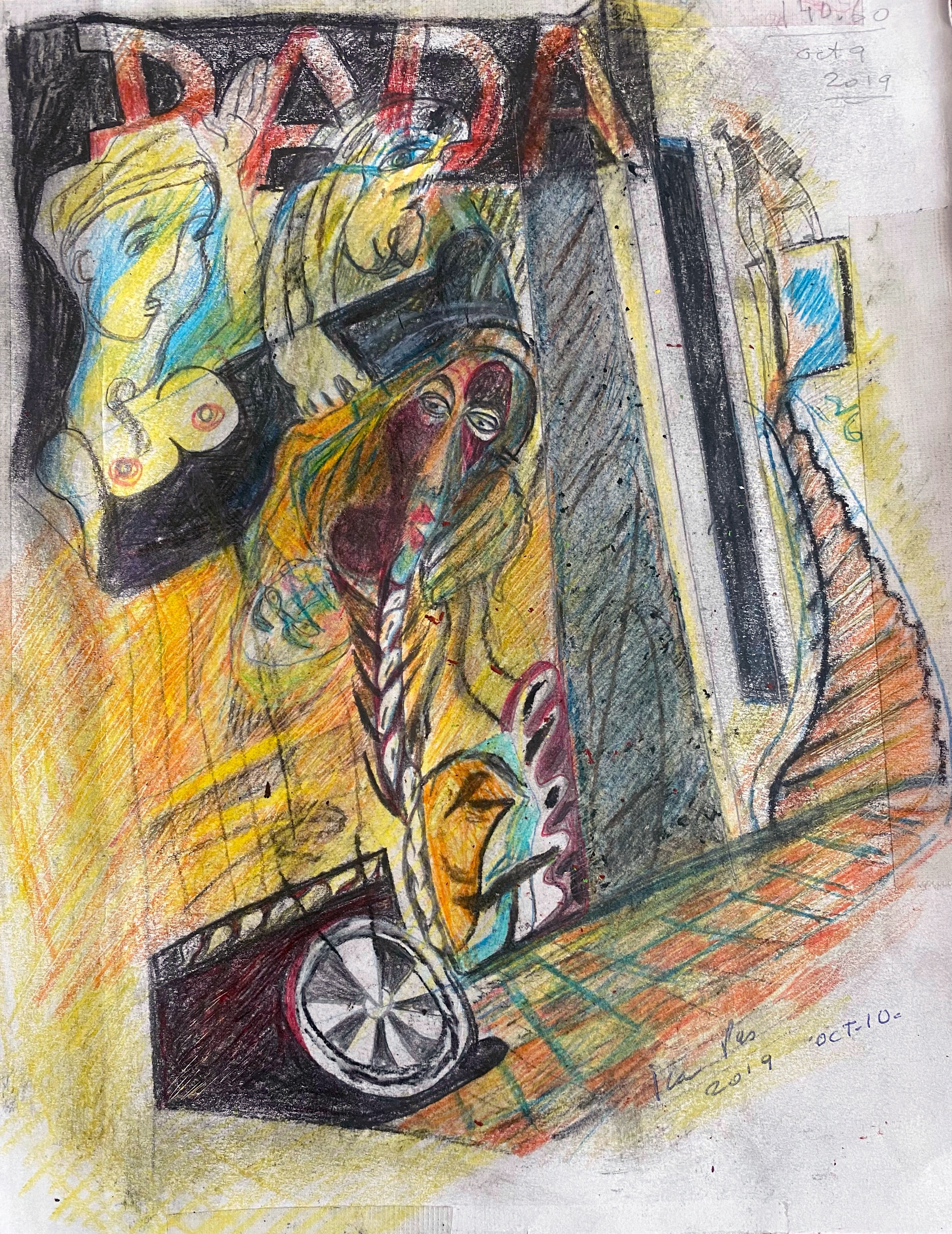 Oct 10
Oil pastel on paper (framed)
2019
7x6"
$600.00
BUY
Exhibiting in the gallery April 1-28
---


Statement

The pieces selected represent Ica's artistic journey from beginning to end in Canada.

Lady Sitting, 1978
This one off painting is an example of Ica's early works where she played with colours and surrealist concepts. Painted on a plywood board, she often used recycled materials for her works which spoke to both the economic state and the enjoyment of working with these kinds of textures in her early pieces.

Oct 10, 2019
This piece is a sketch produced while at Mount Sinai hospital in 2019. She had been diagnosed with stage four liver cancer and a mental health disorder, however Ica continued to create art until she was no longer capable, often depicting haunting images that danced in her mind, looking for reason in numbers and coincidences. Ica was a steadfast, tenacious and talented artist until the end.

Bio

Ecaterina (Ica) Pascaluta (née Ciolan) born in Iași, Romania, January 28, 1931.
Ica Pas
began her journey as an artist in the capital of Romania, Bucharest, where she graduated from the Fine Arts Institute "Nicolae Grigorescu" (now Bucharest's National University of Arts), with a specialty in sculpture and graphic design. Throughout her career, Ica Pas also worked in several media including, painting, furniture, mosaics and mural design. She later turned increasingly to drawing and painting. She was greatly influenced by the Dada Art Movement which was evident in her work. She adhered closely to the tradition of modern expressionism, portrait and landscape painting, as well as abstract composition.
Not only did she create visual art, she also began studying piano at the age of 75 at the Royal Conservatory of Music. She often said that she was inspired to compose music during her stay at the Artscape Gibraltar Point on Hanlan's, Toronto Island, where she saw the melodies unfold in the waves and in the Toronto skyline. Of her dozens of musical works, some were performed during her final weeks in palliative care before she passed away at the age of 89 at Bridgepoint in Toronto.
Artist Instagram: @ica_pas
---
WEBSITE NAVIGATION GUIDE
Bottom right of every webpage is an Accessibility Widget that can alter the webpages as needed.
Top right of every webpage is the Menu button.
All links are highlighted in the colours
purple
,
green
, and
peach
.
Images in the Annual Juried Show and Event Series pages are also links.
All other images can be clicked/tapped to get a closer look in image view. Clicking or tapping again will zoom into the image.
Click/tap outside the image to exit the image view.




Back to workmanarts.com