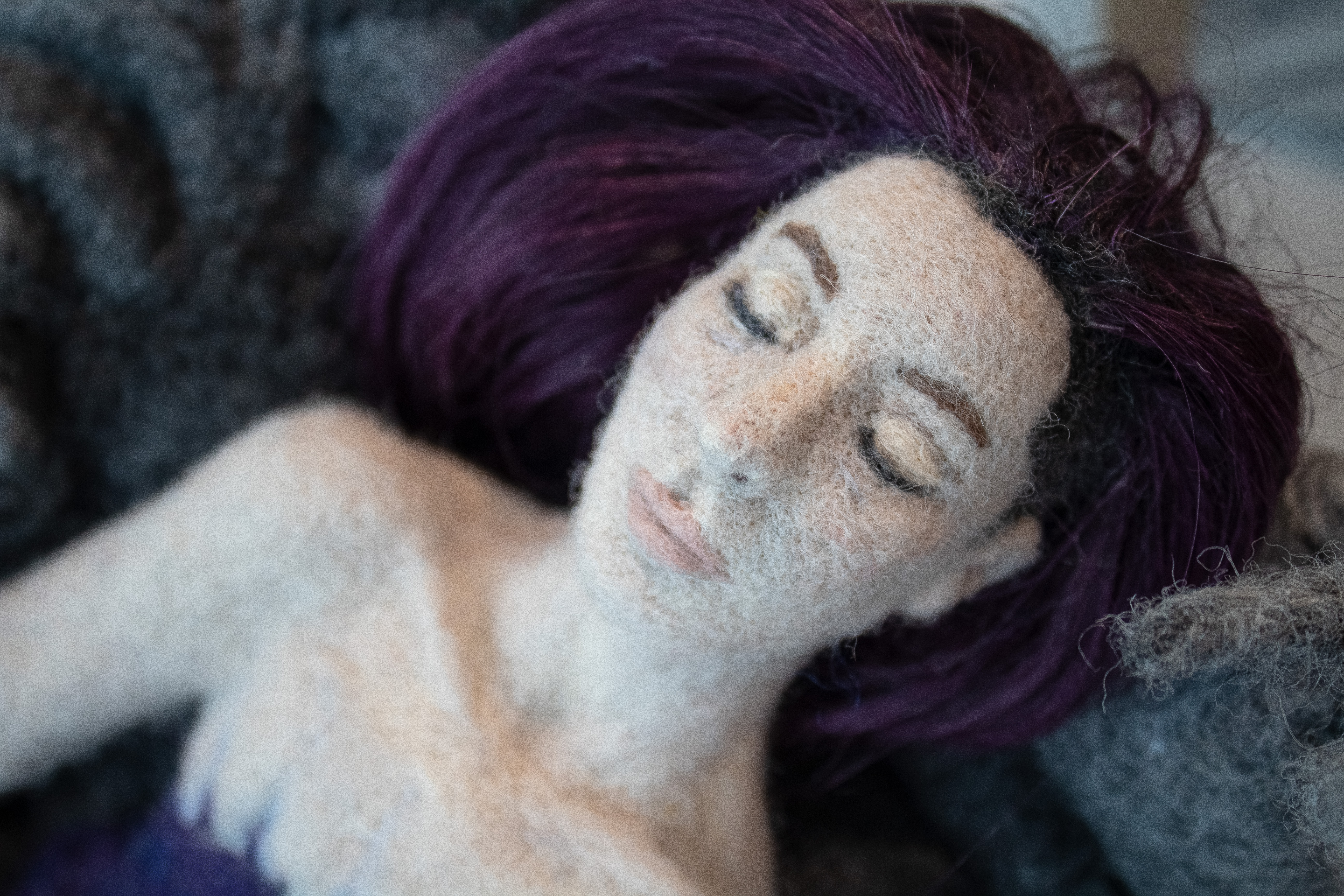 What Dreams May Come
2021
Sheep and alpaca wool felt sculpture
$3,600
BUY
Being invited to create a work that responds to the concept of diapause presented Kat with an opportunity to engage with their fascination with various survival mechanisms found in nature.
Diapause is a period of suspended development in response to regular and recurring periods of adverse environmental conditions. It is marked by a drastic reduction in metabolic activity. It may look like death, or stagnation, but it is a life-affirming protective mechanism.
The COVID-19 pandemic put many dreams, goals, and aspirations on hold. The restrictions aimed at preserving lives triggered their own forms of adversity. Political polarization, economic upheaval, and social isolation have threatened our survival alongside the virus; yet for many individuals and communities these devastating disruptions created a push towards healing and growth. In nature, creation and destruction are inextricably linked: life necessitates death, and vise-versa. To Kat, art making provides a way to navigate the irreducible complexity of the world they often feel lost in.
"What Dreams May Come" is a felted sculpture that represents Kat's emotional state during the pandemic. The title was inspired by words spoken by Shakespeare's Hamlet as he contemplates ending his life: "To sleep: perchance to dream: ay, there's the rub; For in that sleep of death what dreams may come When we have shuffled off this mortal coil must give us pause…", as well as by the eponymous 1998 American movie that explored the idea of connection between people that endures beyond death.
---


Kat Singer (they/them) is a multidisciplinary artist, educator and mental health worker based in Tkaronto. Queer, non-binary, neurodivergent, episodically disabled, of mixed Jewish/Eastern European descent - Kat is no stranger to colouring outside the lines. Kat's artistic practice branches out in a myriad directions, their work spanning an ever-expanding range of mediums.

Working with natural and synthetic fibers has been a comfort for Kat in times of strife. The tactile qualities of the medium of fiber sculpture helps Kat connect with their body in a way that feels safe. The meditative flow of the process provides space for being with some of the heaviest and most difficult emotions. Kat finds immense joy in guiding materials into becoming objects, and, once imbued with enough care, subjects. When Kat gives life to their artworks, they return the favor.



---
Kat Singer will be exhibiting as part of the
Diapause
group show May 17 - 31.
WEBSITE NAVIGATION GUIDE
Bottom right of every webpage is an Accessibility Widget that can alter the webpages as needed.
Top right of every webpage is the Menu button.
All links are highlighted in the colours
purple
,
green
, and
peach
.
Images in the Annual Juried Show and Event Series pages are also links.
All other images can be clicked/tapped to get a closer look in image view. Clicking or tapping again will zoom into the image.
Click/tap outside the image to exit the image view.




Back to workmanarts.com